Police make arrests in months-long odometer-tampering scheme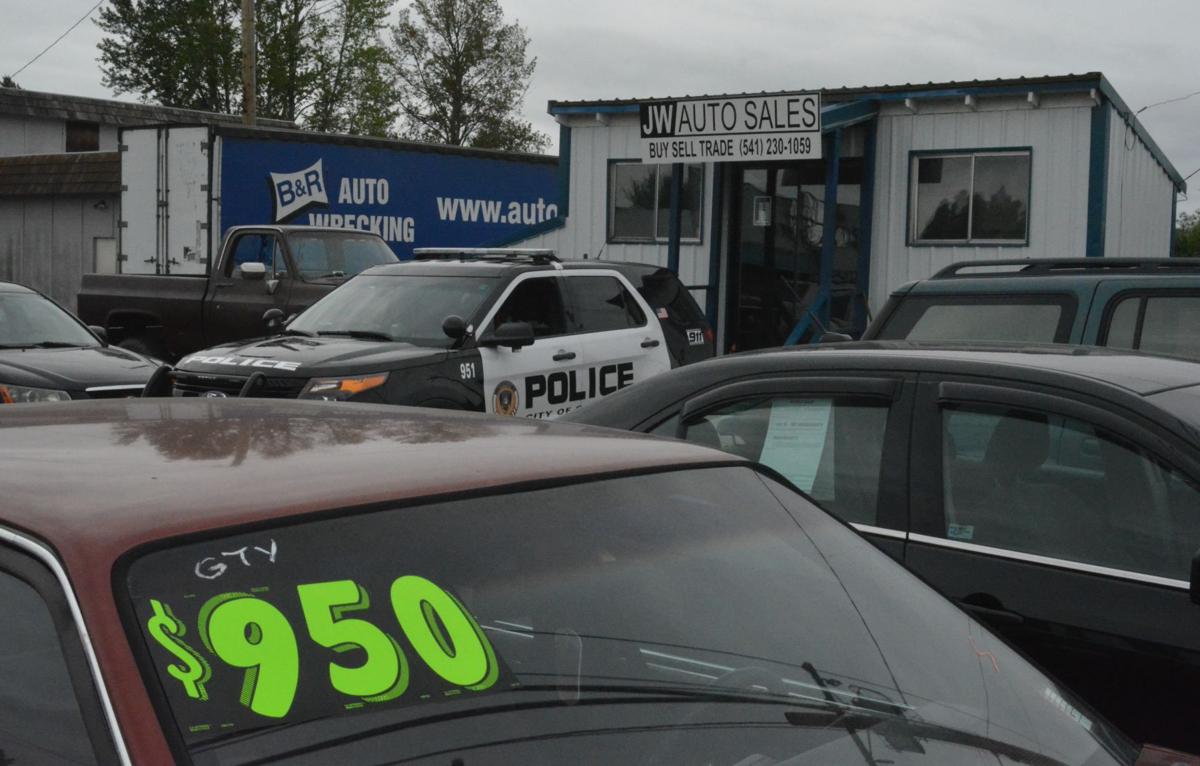 The Philomath Police Department culminated a five-month investigation Wednesday morning with the arrests of three men in connection with alleged odometer tampering through an auto sales operation.
Cody Kin Marten, 21, of Philomath, faces four counts each for unlawful tampering with an odometer, theft by deception and conspiracy to commit theft — all felonies. Jeffrey Lynn Watters, 27, of Corvallis, and London Rae Fields, 22, of Corvallis, were cited for felony unlawful tampering with an odometer.
"We have seized over a hundred titles and sales documents from the suspects and in the coming weeks, we are going to put out on the Philomath website, vehicles and license plate numbers that we know were sold by these individuals," Philomath Chief of Police Ken Rueben said. "We are hoping to have victims contact us and verify what their vehicle was and what the odometer reading was on those cars."
Philomath police seized about 24 vehicles from JW Auto Sales at 3065 SE Third St., in South Corvallis as part of Wednesday's operation. Watters registered JW Auto Sales with the state Nov. 4 and has been leasing space from B&R Auto Wrecking since December, according to B&R assistant manager Todd Boshart.
JW Auto Sales added Fields as a co-owner through an amended license with the state April 4. Watters and Fields are roommates at 5915 Philomath Blvd., in Corvallis.
"They've been buying parts from us for about two years, flipping cars," said Boshart, who described the two partners as "super-nice guys" and said they had created no problems for B&R in the time they had leased space on the property.
Philomath police worked in partnership with the Corvallis Police Department on the case.
While serving the search warrant at Marten's address at 1218 Monroe St., in Philomath, police stumbled upon a marijuana-growing operation.
"What we learned yesterday is that it appears — based on the interviews and our records — is that one of the suspects was selling cars on Craigslist and also taking marijuana in trade or partial trade for the cost of the vehicle," Rueben said. "There was code language put in the ads to alert people that are in the marijuana field that if they saw this code language in the ad, that it would be possible to trade marijuana or partially trade marijuana for the sale of the vehicle."
Marten does have a license to grow marijuana.
The investigation in the odometer-tampering operation dates back to Jan. 7, when a Corvallis woman filed a report with Philomath police over discoveries involving a Subaru Forester that she had purchased through a Philomath-based Craigslist ad.
"Shortly after she purchased the car, she took it to Oil Can Henry's in Corvallis to have the oil changed and Oil Can Henry's — as many of the local maintenance shops do — now use Carfax to track maintenance for these cars," Rueben said.
Carfax offers a fee-based service to the public that supplies vehicle history reports, including odometer information.
"They advised her at that time that the odometer that she currently had on her car was about 150,000 miles less than the last time it was in their shop, or in an Oil Can Henry's facility," Rueben said. "She felt that something was wrong and came to our office to report it."
Police caught a break through Carfax, which makes accounts available to law-enforcement agencies, and contacted the prior owner of the Subaru Forester, a former Corvallis resident who had moved to Salem.
"We contacted him and he told us that he sold this car to one of the individuals we arrested for $800 and it had a blown head gasket and was barely running," Rueben said. "The advertisement on Craigslist said the car had 156,000 miles on it and when she got the car, that's what it had. The Carfax report said the last time that car was in for maintenance … it had 229,000 miles on it."
The suspects flipped the vehicle and sold it to the victim for $3,600 — a profit for them of $2,800 in less than a week.
"The electronic odometers of today's cars, many of them take special tools to actually access the instrument cluster where the odometer is," Rueben said.
The victim's car was taken to a Corvallis garage and it was discovered that the entire odometer mechanism had been replaced.
The investigation progressed with a search warrant served on Craigslist to be able to access posted ads going back over a year. Many of those ads included photos of cars and in some of those, images of the license plates could be seen. Police compared mileage claims in the ad with odometer readings through Carfax.
"We found that eight of the cars that we looked at out of about 20 that the odometer was significantly different than what was on their ad, or what it should've been in reality," Rueben said. "We knew we had a group of people that were doing this and victimizing people using Craigslist to sell these vehicles."
The investigation also ventured into cellphone records and Facebook accounts and police conducted surveillance at numerous locations where cars were worked on and sold in Corvallis and Philomath. It all added up to the four search warrants served Wednesday — at the Watters and Fields residence, the Marten residence, JW Auto Sales and an auto garage workshop near the Corvallis airport.
Two of the suspects were cooperative with the investigation.
"We interviewed the three suspects and two of the suspects were cooperative and admitted that they had rolled back odometers on cars prior to opening their business for the purpose of raising money to open a legal business, which is JW Auto Sales," Rueben said. "We don't know how many victims we have yet."
Police will now follow up by eventually publishing an online list of all the cars that have been sold through the suspects over the past year "in hopes that we can verify if they were defrauded or not."